- ITW AngleBoard Protective Pkg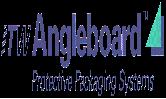 ITW Angleboard manufactures protective packaging products for the perishable, metals, lumber and consumer goods industries. The products are manufactured from paper and/or plastic, formed into a rigid right angle and used to unitize, protect edges, aid in stacking pallets and reinforcing other packaging materials.

"Your Single Source for Packaging and Transportation Protection Systems"