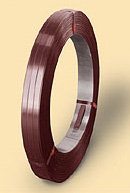 For uncompromising quality and packaging effectiveness - Consistent high quality makes Signode steel strapping the first choice among packaging professionals worldwide. Purchasing professionals also prefer Signode strapping because it's made to the most exacting tolerances, so it goes further and stretches their strapping dollars.
Signode offers two basic types of steel strapping: Apex Plus and Magnus. Each is specially formulated to meet the demands of a particular range of applications. And for each strapping type, there is a selection of sizes and finishes which matches the specific requirements of those applications.

Steel strapping
- The particular type of strapping best suited to a specific application generally depends on three factors: 1) the strapping's function or purpose, 2) the package characteristics and 3) shipping or handling considerations.

In a specific application, strapping may perform one or more of the following functions: package reinforcement, carton closure, securement, unitization, baling, bundling, bracing, palletization, compression retention and pilferage reduction.

Package characteristics that influence strap selection are: weight, stability, rigidity, integrity and sharpness of the edges (sharp edges may demand heavier strapping or corner protection).

Shipping considerations that affect the choice of strapping include: how far the package is shipped; how it's handled by both the shipper and receiver; and where and how it's stored.
Together, these various factors tend to narrow the choice to a particular set of strap characteristics. In simple applications, the choice may be obvious. In more complex applications, your B2B Industrial sales representative can help you determine your strapping requirements, such as width, thickness, finish, type of steel and tensile strength.
Signode steel strapping plants are ISO-9000 certified.