- Signode Strapping Machines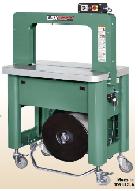 Signode Packaging Systems is the leading worldwide provider of plastic strapping systems for the securement of a wide range of products, from newspapers and produce to PVC pipe and cotton bales.

Two plastic strapping materials — Contrax® polypropylene and Tenax® polyester — are the basic components of our plastic strapping systems. We also offer an extensive line of application equipment, ranging from simple hand tools to fully automated, operatorless machines.

Our sales, equipment service, customer service and engineering departments can help you design the optimum protective packaging system for your application.