- Steel Pneumatic Combination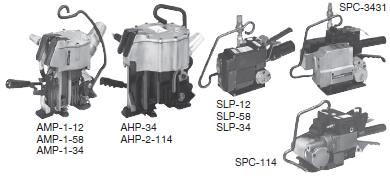 Pneumatic seal-feed
Using applied air pressure as a power source, pneumatic seal-feed combination tools quickly and effortlessly tension, seal, and cut the strapping. These tools include the AHP and the AMP. (Note *Double Reverse Notch)
Pneumatic sealless
Pneumatic sealless combination tools include the SLP and the SPC.
A quick disconnect plug is furnished with each pneumatic tensioner.  Order air hose and other fittings as separate items if required.
It is
absolutely
necessary that the Filter-Regulator-Lubricator assembly (PN173111) be installed ahead of the tool in the air line.
All prices are subject to change; prices in effect at time of shipment will apply.
*THESE NON-STOCK ITEMS ARE NON-RETURNABLE AND NON-REFUNDABLE