- Signode Steel Manual Sealers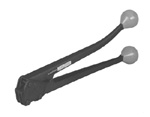 Signode manual sealers provide positive sealing action with minimal effort. Light and durable, they lock strap ends into a high strength joint.
Notchtype sealers
cut into the seal and outer edges of the strapping, turning tabs down (down notch) or up (reverse notch).
Crimp-type sealers
press the edges of the strapping and seal into wavy crimps specially shaped to produce maximum frictional forces on the strapping.
Two sealer action types -
Side-action and front-action
Front-action
- Front-action sealer handles are held perpendicular to the strapping, usually in front of the operator who pushes the handles together close to the chest. Generally for light-duty strapping applications.
Side-action -
The side-action sealer's lower handle can be rested on the flat surface of the unit being strapped. Operators can apply much of their weight with both hands on the upper handle. Generally for heavier strapping applications.
All prices are subject to change; prices in effect at time of shipment will apply.