- Signode Plastic Manual Tensioner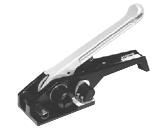 Walking gripper tensioner*
Lightweight tensioner/cutter designed for buckle applications with plastic strapping. Provides maximum tension with Steelock or Dylock buckles.
* Tool may be used with 816, 818 Contrax strapping, but only with the 50DL buckle (Not the 50SL).
Feedwheel tensioner
A serrated feedwheel grips the strapping and rotates to draw up slack. Fast and easy to position and use. Take-up is unlimited, and strapping may be used directly off the coil.
Windlass tensioner
Applies tension by gripping one end of the strapping and winding the other around a slotted shaft.